close

News
EntwineTech Proudly Announces its Tenth Anniversary
6th January 2015, Manila – EntwineTech the world's largest Live Dealer platform is proud to announce a significant milestone in the company's history – In November 2014 we celebrated our 10th anniversary.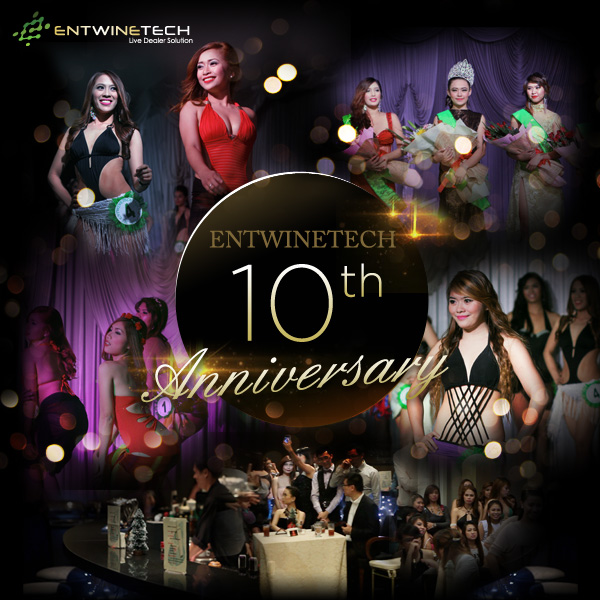 Commenting on this milestone Ian Dunning a spokesperson for EntwineTech said "We are immensely proud of this achievement, ten years ago EntwineTech was one of the first companies to develop software in the new industry growing up around online gaming, today we are world leaders in the field of live dealer solutions. One of the things that is most satisfying is that when we look back at the team we started with most of them are still with our business it is this continuity and passion that enables us to produce the world's best live dealer software. The loyalty of our partners is another area that gives us great pride, today we have over 80 licensees, many of whom have been with us since our earliest days and have shared our success and grown their businesses using our world beating software".
The past ten years has been an incredibly successful and exciting journey for EntwineTech, not only have we had the pleasure of seeing our own business and our partners businesses grow, but we have also introduced many exciting and market leading innovative features into live dealer solutions. In the early days we developed trustworthy and efficient solutions which enabled players across Asia to experience the quality and excitement of our games despite the poor internet connectivity available at the time, latterly we have been world leaders in producing outstanding mobile live dealer solutions and we were one of the first software providers to deliver online live dealer games streamed directly for tables in land based casinos. We are often asked what the secret of our success is and we have a simple answer, we focus on our people and our partners.
Dunning further commented, "the on-going investment in developing our range of live dealer games, combined with the knowledge we have amassed over the last ten years means that the next ten years will be even more successful than the past ten. I confidently predict that in 2024 EntwineTech will still lead the world in live dealer solutions and our proudest boast will not be of all the awards we have won but the fact that the majority of our current partners will still be with us then".
As part of the ten years anniversary celebrations EntwineTech staged one of their famous beauty pageants. Not surprisingly the standard of entrants was extremely high given the nature of the celebrations, you can judge for yourself from the selection of pictures we have included below. Finally we would like to thank all our staff and partners for helping EntwineTech to achieve the success it has over the past ten years and we look forward with confidence to the next ten.
For further details contact:
Sales Representative +44 787 509 2019